Your AHS directory profile
Making sure you're listed in the AHS directory is simple. Once your profile is created, you'll have total control over updates, letting  you keep things up-to-date and representative of your best work.
In order to use the site, you'll have to login to WordPress to trigger account creation. Go to cms.ahs.uic.edu/wp-admin, and click the blue button near the bottom of the page that says Login with UIC Common Password.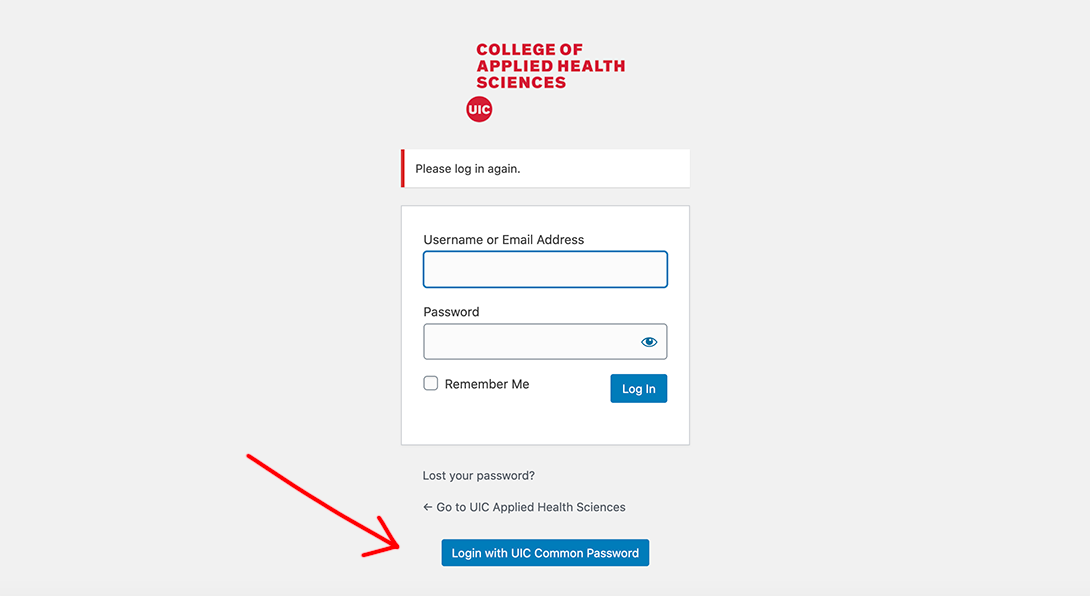 Use your UIC NetID and password. That's it!
Now that you have an account, we need to make sure you have access to all the right parts of the site. Send a message to ahswebmaster@listserv.uic.edu and let us know you created an account.
You'll get a message from one of the web team members when your profile is ready for you.
Step 3: Log in and navigate to your profile
Go to the web address the webmaster sent you in the email, and click the blue button near the bottom of the page that says Login with UIC Common Password. Use your UIC NetID and password.
Once you've logged in, you'll be at your dashboard. Find the Profile link on the left menu that has a push pin next to it.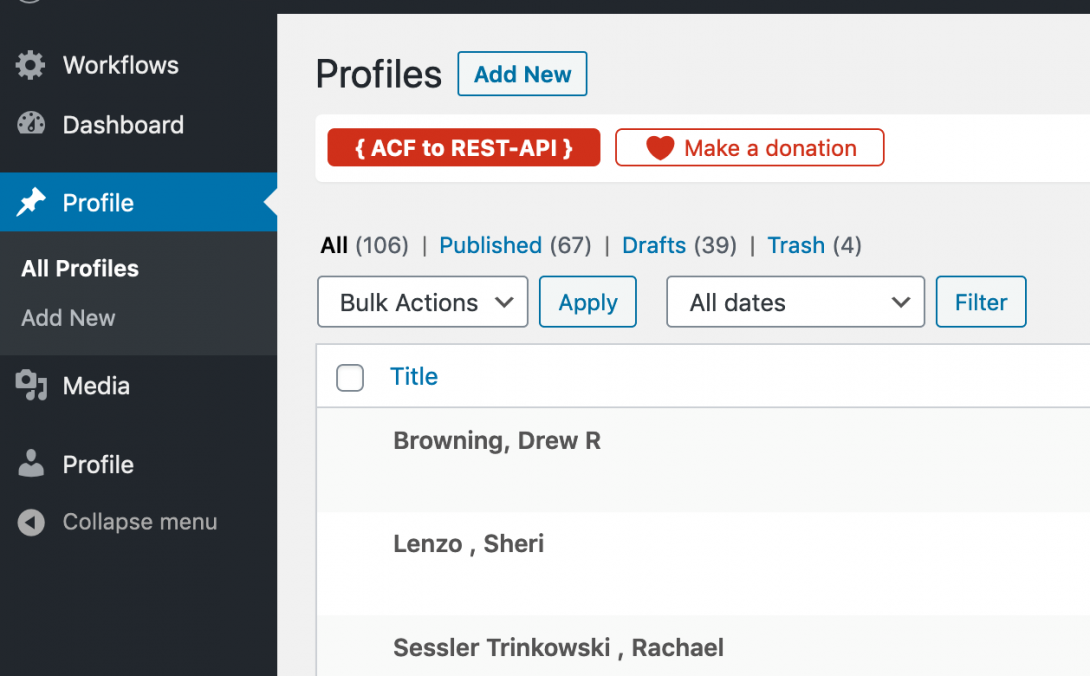 Note: You may not have all the menu options shown in the above screenshot. That's normal! Your menu items are based on the amount of responsibility you have on the rest of the site. However, if you don't see this Profile link, let us know right away.
After you click on Profile, hit Add New at the top.
Step 4: Fill out your profile
Now for the good stuff—filling out all the bits and pieces about you!
We worked hard to make the AHS profile easy to use, so we're confident you'll be able to work through the fill-in-the blanks easy enough. Here are some tips about formatting and content to guide you.
Profile type
We have different required fields for our different profile types: Admin/clinic staff (for any non-faculty member), adjunct faculty, faculty and facility (clinic/lab/center).
Make sure you choose the correct one before completing any fields.
Photo
While photos aren't required for everyone, we definitely encourage including a headshot. Adding a picture helps our users feel more welcome by the AHS faculty and staff.
Our ideal dimensions are 628×720 px, but your image must be at least 314×360 px.
Uploading a photo
To upload an image, click the Add Image button. Simply drag and drop your photo from its location on your computer right on to the Select Image window. It should appear in the gallery with a blue checkbox and border, and also show up on the right side of the gallery.
At the bottom right of the Select Image window, click the blue Select button.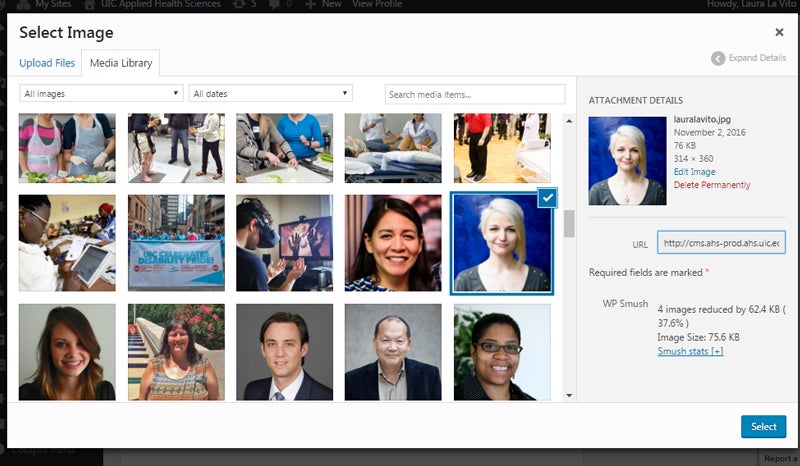 Replacing a photo
If you have a new headshot you'd like to use, hover over the thumbnail of your current photo and push the X button. Then follow the steps above to upload your new image.
Photo Alt
Alt text is used to describe an image so screen readers have information to give users. We make sure to include alt text with all images.
For your headshot, simply including your name (and any relevant titles, if you'd like) is perfect.
Titles and Homes
You can add up to three titles — each with their own  home — on your profile. This might be your academic rank (Professor, Clinical Instructor) or your administrative title (Associate Dean, Office Manager). Include one title on each line unless both titles are within the same home. Separate titles on one line with a comma (Example: Professor, Department Head). Choose the home for that title from the Home drop down.
Example 1: Multiple titles in two homes
Line 1: Professor (academic rank), Department Head (admin title), Disability and Human Development (home1)
Line 2: Director (admin title), Institute on Disability and Human Development (home2)
Example 2: Multiple titles in one home
Line 1: Clinical Associate Professor (academic rank), Interim Associate Head (admin title1), Program Director — Health Information Management (admin title2), Biomedical and Health Information Sciences (home1)
Office Building
To keep things easy, all you have to do is start typing in your building abbreviation (AHSB, CMET, DHSP, PEB) and the system will autocomplete the entry. Click on your building, and the correct address will automatically show up on your profile. Easy!
Related Websites
Feel free to include up to 4 additional sites for yourself. That can include a lab site, social media, or other collaborative site. Your Site Title is the text that will show up on your profile, and the Site URL is where the link will go.
Office Hours
For all faculty, we're giving you the opportunity to list your office hours online to help students know when and where they can find you. If you don't have set hours, feel free to leave this as "By appointment."
Curriculum Vitae
To upload your cv, make sure it's first saved as a PDF, then follow the same instructions for uploading a photo.
Note: We recommend that you make your filename 'server friendly'—that means no spaces, apostrophes, slashes or other non-alphanumeric characters. Rename the file before uploading if it does. To help readability, it can be helpful to replace spaces with an underscore or hyphen. (Example: Laura La Vito CV.pdf becomes Laura_La_Vito_CV.pdf or Laura-La-Vito-CV.pdf)
Degree Program Affiliations
Like our office buildings, for your AHS affiliations you can just start typing a program and the system will offer you suggestions. Click on the correct program, and it's added!
These affiliations don't show up on your profile, but are used in our directories to filter by program.

About
This is your chance to include the most important things about you and your work. Feel free to talk about your background, research, teaching focus, or other topics you feel users should know about you right away. This is limited to 1200 characters to make sure visitors don't get more info than they want/need. Your CV is always there for people that want the full meal!
Focus Areas
Based on the survey we sent out to all faculty members, we've compiled a list of focus areas to choose from. This list shows up on our AHS directory (with customized lists for departments) to allow users to see all our subject matter experts in specific topics. This has a number of benefits:
Lets prospective students see faculty that share their interests
Provides the media with a list of contacts for various topics
Helps potential collaborators find each other
Serves as a community resource in areas where facilities/labs/centers are listed
Just remember: If you're going to attach your name to a focus area, it should be one for which the connection is clearly demonstrable.
Grants
Our fill-in-the-blank fields should make showing off complicated grant information much easier for you. You can include up to 4 selected grants, letting you focus on your best, not just your newest. Here's an example of what the Dean has entered: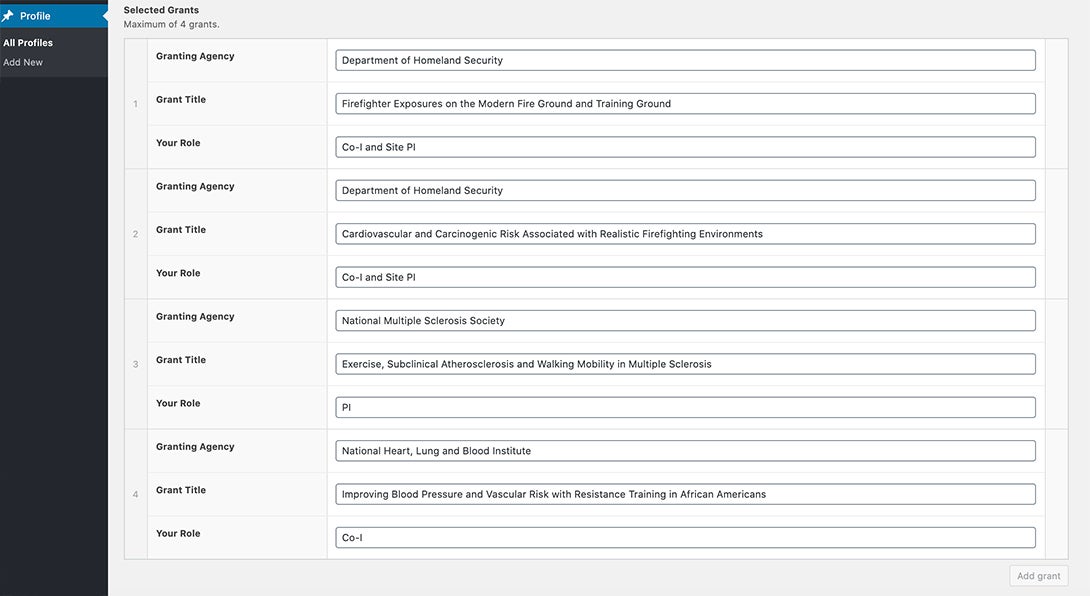 …and what that looks like on his profile.
Publications
Publications are another complicated listing, and we've made things a lot cleaner—both for you and the user. Gone are long, complicated citations. Here we focus on the basics of the work.
Article: Use Article Title, Publication Title, and URL
Book: Use Publication Title, Publisher, and URL
Presentation: Use Article Title, Publisher (for conference/event title), and URL
Just use the appropriate fields, and let the system format for you! Article Title will show up in quotes, Publication Title will be in italics, and Publisher will be regular text.
Have questions, or need help with a publication that doesn't neatly fit into one of these? We can help.
Publication Aggregators
Since your selected publications will help you show off your very best, we encourage you to link to any publication aggregators like ResearchGate, Google Scholar and PubMed to show off the full breadth of your work. Add these links the same way you add Related Websites.
Service to the Community
Community engagement is a big part of AHS' identity. Take this opportunity to talk about your collaborations, partnerships or service to a larger community for the mutual beneficial exchange of knowledge and resources as it relates to your role(s) in AHS.
Education
The recommended format for your education is degree, concentation, school, year. Example: PhD, Exercise Physiology, Arizona State University, 1984
Step 5: Publish
All set? Scroll back up to the top of your page and look for the Publish box in the top right. Just click the blue Publish button and you're all set!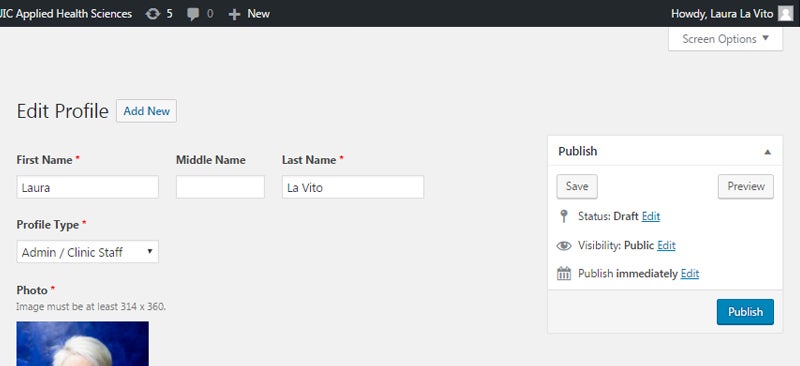 You have the ability to publish changes to your profile any time you'd like. If you're updating after the first publish, that button will instead say Update.
Note: Your changes will not be immediately visible. To keep our site as fast as possible for the end user, there's a waiting period while our site looks for new changes and publishes them. In general, changes are visible within 1-2 hours, but can sometimes take up to 24 hours. If you think something went wrong and your changes didn't go through, let us know!